UT-65/66 | East Canyon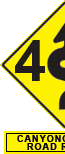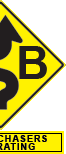 Distance: 40.0 Miles (64.37 km)
Rating: 4-B, Lots of weird corners add to the technical aspect of this road. Being closed during winter helps keep the surface in good shape. Ratings Explained »
Travel: Either direction for best results
Start: 800 South In Salt Lake City
End: Morgan, Utah
Fuel: Available on both ends
Along the Way: The overlook at the top has cool views of the salt lake valley. "The Hole" donut shop inside the Chevron in Morgan, Utah has an amazing apple fritter.
Highlights: A series of quick kicking corners around the lake are worth riding over and over and over again
Advisories: There are several deceptive corners that will tighten up on themselves and throw you off the side of the mountain. Use discretion. Lots of boats use this route to access East Canyon Reservoir. A state part ranger hangs out around the reservoir and can issue tickets and he does have a radio.
Summary
Ride up 800 South, to Sunnyside Avenue which becomes Emigration Canyon or you can head up I-80 and take exit 134. Emigration Canyon is full of homes and bicyclists, so its no great treasure of a road. Most locals just head up Parleys Canyon (I-80) instead.
The road begins by passing Little Dell Reservoir where a good portion of Salt Lake Cities drinking water comes from, which is why you won't see many people in the water. After that, the road meanders its way up along the route taken by the Mormon pioneers when they found their way into the Salt Lake Valley.
Six outstanding switchbacks will take you to the highest point of the pass, about 7600 feet up. Over the top the road dips into what appears to be a gentle sweeping left hand corner. It's not! This corner gets a lot tighter and claims a lot of unwary motorcyclists.
The road will continue is rabid descent towards East Canyon Reservoir and State Park. Around the reservoir the road is pretty tame but after turning left onto UT-66 the road climaxes with about 25 tight corners thrown at you in just over a mile.
Lots of elevation changes make the road a tummy-tickling roller-coaster, but be on guard for boats crossing the double-yellow. When you reach the dam itself, you'll find a nasty right hand corner that is strewn with debris, we treat this corner like a yield sign and come to almost a complete stop to look for oncoming traffic as most auto-drivers use both full lanes to get around this corner. Past that, you get plenty more great cornering opportunities, with the road gradually becoming less technical as you get closer to Morgan.
Be mindful of all the corner speed advisory signs, in both directions, many corners that are simple heading one way become evil off-camber, decreasing radius corners when traveling the opposite direction.
However, this is one of the reasons we love this road, each direction has its own flavor and character, so we have a hard time deciding which direction we prefer. However, it is one of the more technical of the local roads so be prepared when you head out.
---
Road Rating System
The first part of our rating describes how technical we feel that road is. Numbers one through five with five being the most technical and one being a more mellow road with few challenging corners. The second half of the rating is a letter grade. A rating of "A" would be a road that is in great condition and a grade-F would be a crumbly, slippery or degraded surface.
---
More Utah Roads