UT-1668 | Burr Trail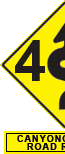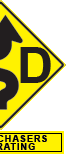 Distance: 60.8 Miles (97.85 km)
Rating: 4-D, Once a dirt road that now gets a little bit more asphalt every year, its narrow and rough, but offers some very technical, narrow corners. Ratings Explained »
Travel: Either direction for best results
Start: Boulder, Utah
End: Boulder, Utah
Fuel: Boulder, Utah
Along the Way: Hells Backbone Grill in Boulder Utah is one of our favorite eateries in the state. During the first few miles there are some fantastic view points that are worth stopping at.
Highlights: This road is all about the views, riding down narrow slot canyons in a world too inhospitable to support human life, you wonder how the vegetation survives
Advisories: This is an out and back unless you fancy riding in the dirt, expect sand to have washed or blown onto the road surface and if its raining anticipate the potential for flash flooding. The road is narrow so be prepared for oncoming traffic to taking up the full width of the road.
Summary
If you have the time and find yourself wanting more epic, desert scenery, then this road is one not to be avoided. On most days, particularly mid-week, you can almost plan on being the only one out there. Even on busy weekends it can be eerily quiet.
Leaving Boulder, Utah and riding east, the road quickly leaves behind the few homesteads in the area and enters into a very empty landscape, bountiful with towering rock features. The road starts dropping down into narrow canyons by clinging to impossibly narrow ledges that switchback their way down to the narrow valley floor. From here the scenery gets really good.
Sheer red rock walls climb several hundred feet up towards the crisp blue, Utah skies creating stunning color contrast while the road snakes its way between the empty creek bed (unless its raining) and the steep rock walls. Few pullouts offer photo vantages, but the quiet, remote nature of the road means you can stop most anywhere as long as you are smart enough to not park in a blind corner.
After several more miles, the road will look like it ends at a cattle-guard and a wide gravel parking lot. Stop to enjoy the views overlooking Capital Reef National Park in the distance, but you can continue on for another 15 miles (or so) before the road terminates at the parks boundary. At this point most asphalt intended bikes turn around and enjoy the road in the other direction, but those unintimidated by graded dirt roads can press forth. If you turn around, you will be amazed that the same place can look so different from two directions.
---
Road Rating System
The first part of our rating describes how technical we feel that road is. Numbers one through five with five being the most technical and one being a more mellow road with few challenging corners. The second half of the rating is a letter grade. A rating of "A" would be a road that is in great condition and a grade-F would be a crumbly, slippery or degraded surface.
---
More Utah Roads