CO-65 | Grand Mesa Scenic Byway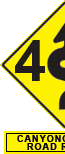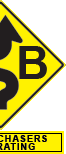 Distance: 59.6 Miles (95.92 km)
Rating: 4-B, Fun mountain pass and a great way to avoid the dreary CO-50 Ratings Explained »
Travel: Either direction for best results
Start: Junction of CO-92
End: I-70 Exit 49
Fuel: Delta, CO or Grand Junction, CO
Along the Way: The circular sweeping turns near I-70 are fast, fun and rewarding.
Highlights: Late September is typically the ideal time to enjoy this road, when the aspen leaves turn incredible shades of yellow and gold.
Advisories: Despite the tame looking nature, the road does climb to well over 10,000 ft (3,000 Meters) of elevation.
Summary
As you depart Delta, you'll begin by leaving the hot, dry valley behind at about 4,800 feet of elevation and be greeting by a constant but legitimate climb towards Powderhorn Mountain Resort and a nose-bleed elevation of nearly 11,000 feet. (this is Colorado after all).
Enjoy watching the vegetation and terrain evolve from high desert to densely vegetated Alpine vistas that will feel like you are on top of the world.
Because of the dramatic changes in elevation it is not uncommon to go from searing heat to bone-chilling cold.
Past the ski resort the road begins it's rapid descent back towards the valley floor, past expansive farmlands.
Be on the lookout for elk, mule deer, Canadian lynx, black bears, pine marten, cougars, and bighorn sheep. Birdwatchers get a seasonal opportunity to view species of bird such bald eagles, boreal owls, golden eagles, Mexican spotted owls, common ravens, wild turkeys and peregrine falcons.
At the junction turn towards the west and continue to follow the meanderings of the Little Wash river, a tributary of the Colorado River.
---
Road Rating System
The first part of our rating describes how technical we feel that road is. Numbers one through five with five being the most technical and one being a more mellow road with few challenging corners. The second half of the rating is a letter grade. A rating of "A" would be a road that is in great condition and a grade-F would be a crumbly, slippery or degraded surface.
---
More Colorado Roads