OR-20 | Middle Fork Road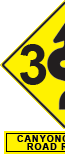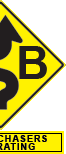 Distance: 40.6 Miles (65.34 km)
Rating: 3-B, Scenic, historic route that follows the meanderings of the John Day River Ratings Explained »
Travel: Either direction for best results
Start: Intersection of OR7 and OR26 – Bates State Park
End: OR395 – Pendleton Highway
Fuel: Long Creek, Oregon
Along the Way: Atypical Oregon scenery. Scrubby, dry vegetation and sparse trees with craggy rock outcroppings.
Highlights: A quiet side-route through the Umatilla National Forest, taking you off the larger, more frequently used routes.
Advisories: Most traffic will follow the larger OR26 or OR395 so don't expect much traffic, which can be good or bad.
Summary
If crossing Oregon, this road is a delightful distraction from the faster and more direct routes in the area. Middle Fork Road narrows and slows down to follow the meanderings of the John Day River. Riding east to west, the road starts off mostly straight, but the farther north-west you travel, the more the road will start to wind and wander it's way through the natural terrain features of the area.
As the road climbs, the terrain stays mostly the same with scrubby pines and ruddy red soil. Occasionally, the narrow canyon you are riding through will open up to stunning, peaceful meadows where wildlife is common. The road will begin to descent gently as you pass through the small community of Galena, Oregon, which appears to be a very peaceful existence for the residents of the area. Even though people still live in this former gold mining camp, it is official listed as a ghost town. The original name of the town was Susanville, after one of the earliest inhabitants, Susan Ward, but was eventually renamed after Galena Ore, which was eventually found in the area.
Leaving the National Forest behind you, the road will begin following the river in earnest and you'll be treated with more regular sweeping corners as you make your way to the terminus of the route where it intersects with OR395. Turn left (south) to head into Long Creek, Oregon where food, fuel and lodging are all available.
---
Road Rating System
The first part of our rating describes how technical we feel that road is. Numbers one through five with five being the most technical and one being a more mellow road with few challenging corners. The second half of the rating is a letter grade. A rating of "A" would be a road that is in great condition and a grade-F would be a crumbly, slippery or degraded surface.
---
More Oregon Roads